Want to Join
the Odyssey Team?
Join Our Team, Make History
Our team takes on demanding engineering problems, performs applied research on cutting-edge space technology, and supports the development and operation of the newest space vehicles.
We are looking for talented engineers and software developers at all experience levels to help us make history with human and robotic spaceflight projects – these include NASA's Orion spacecraft, the ISS Commercial Crew and Cargo spacecraft, Earth-orbiting science satellites, crew and payload transportation to the lunar surface, and the establishment of humanity's next outpost in the Earth-Moon system.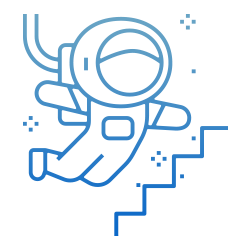 Take Your Career to the Next Level
Odyssey strives to be the best at what we do. Informative, transparent, knowledgeable, experienced, integrated, and fully committed to our employees and partners. We treat team members as individuals and provide challenge, responsibility, and opportunity to take careers to the next level.
Get Competitive Benefits
We offer the kind of comprehensive benefits you'd expect at a big company – competitive salary, subsidized health insurance, 401(k) with company match, generous time off, flexible work schedule, a bonus program, and more.
What is Your Passion?
If you have the passion, skill, and dedication to perform your best and help solve some tough problems, consider joining our team.
Odyssey Space Research, L.L.C. is an Equal Opportunity/Affirmative Action employer. All qualified applicants will receive consideration for employment without regard to sex, gender identity, sexual orientation, race, color, religion, national origin, disability, protected veteran status, age, or any other characteristic protected by law. In compliance with federal law, all persons hired will be required to verify identity and eligibility to work in the United States and to complete the required employment eligibility verification form upon hire. In most instances, due to restrictions imposed through Federal contracts, positions at Odyssey require 'U.S. person status' as defined by Federal law, e.g. U.S. citizenship or Permanent Resident status (Green Card).