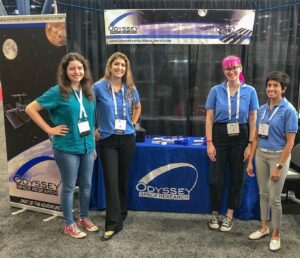 October 21, 2022: Odyssey attended the WE22 today, which is the world's largest career fair for women engineers and technologists hosted by the Society of Women Engineers (SWE). Marielle Pellegrino was one of Odyssey's engineers who attended the fair and had this to say:
"It was nice to connect with people with different engineering backgrounds from across the US. The conference itself had great sessions on subjects like how to have an open dialogue about imposter phenomenon in the workspace and how to foster creativity. There were a lot of useful professional development tools overall at the conference." 
As a woman-owned small business, Odyssey was proud to attend this conference for the first time. Odyssey's President, Jana Rebmann, shared her thoughts on the career fair: 
"It was a great, new addition to our ability to connect with such a diverse and well-educated group and we hope to keep our affiliation with SWE at this event and others in the future!"
Interested in working for Odyssey? Apply online now at our Careers page!